[Update] Camp For A Cause – Breast Cancer Awareness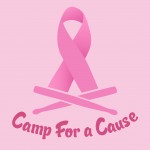 Since the kickoff of our charity fundraiser, announced on October 6, 2012, we have made tremendous strides on reaching the monetary goal set inside the camp to donate back to Breast Cancer Research. Through the help of all of you, several corporations and small businesses, NFL and NBA pro athletes, promoters and entertainers, we are hoping to do something very special.
Camp For A Cause: The Raffle
Throughout the state of Ohio, where I, DJ Bandcamp, am from, we have been selling $5 raffle tickets and collecting donations to help promote the cause in which proceeds will benefit the National Breast Cancer Foundation (www.nationalbreastcancer.org). The prizes include:
A Day with DJ Bandcamp (options to be discussed with winner)
Floor tickets to a Cleveland Cavaliers Game
Tickets to a Cleveland Browns Game
A clothing package from Corporate and an iPad
A clothing package from Original Thought Required and an iPod
$100 Speedway gift card and an iPod Shuffle
Sneaker giveaway (up to $180)
A clothing package from Make Plays or Die (MPOD) and a $30 Friday's gift card
$50 Speedway gift card
10. A clothing package from Origianlitees and a $25 Wal-Mart gift card
***There will also be a silent auction to win gear/apparel from:
Rajon Rondo and The Boston Celtics
Daequan Cook and The Oklahoma City Thunder
Taj Gibson and The Chicago Bulls
Quincy Miller and The Denver Nuggets
Trent Williams and The Washington Redskins
Wesley Woodyard and The Denver Broncos
Boom Herron and The Cincinnati Bengals
Raffle Tickets can be purchased from:
1. Cincinnati, OH
Original Thought Required: 1307 Main St. Cincinnati, OH 45202 (@OTRFRESH)
Corporate: 2643 Erie Ave. Cincinnati, OH 45208 (@Corporategotem)
2. Columbus, OH

Bella Boutique: 1264 North High St. Columbus, OH 43201 (@Bella__Boutique)
3. Youngstown, OH

In the Cut Barber Shop: 196 McCartney Rd. Campbell, OH 44405
Any of the following Belleria Pizza locations:
882 W Liberty St. Hubbard, Ohio 44425
3511 Youngstown Rd. SE Warren, Ohio 44471
13 N State St. Girard, Ohio 44420
4. Twitter Handles
@Onthe_move       @MakePlaysorDie         @ohsodivaent
@Jaymelmusic       @ooohwee3thirty           @starlyfeent
@Trueprodigyco    @myoriginalitees            @its_theacademy
@jtripmusic            @cp24_era                     @theacademyclub1
@jill_2trill               @rml_ent                         @sauce_330
@TeamEBE          @ANDREALLEN2
Camp For A Cause: Event Details
Being from the city of Youngstown, it is only right to kick off my first charity event in my hometown. We will be holding our culminating event on November 17, 2012 at The B&O Banquet Hall in the city of Youngstown, OH from 6-8 pm. This event will be FREE to the public as we recognize breast cancer survivors and announce our winners of the "Camp For A Cause" raffle. We asked that everyone come dressed in "After-5" attire and celebrate a day of service as we unite for such a special cause. A representative from the National Breast Cancer Foundation will be present, as well as many other partners involved in our cause.
Camp For A Cause: Special Thanks
We would like to thank the City of Youngstown, Mayor Chuck Sammarone, and Belleria Pizza for being official sponsors for such a great cause. The Covelli Centre for their backing and support, and everyone contributing to make this event a huge success.
Please remember, every little bit counts! For those not in any of the surrounding areas, donations are being accepted online at www.djbandcamp.com Click on "CAMP FOR A CAUSE" and donate directly via paypal.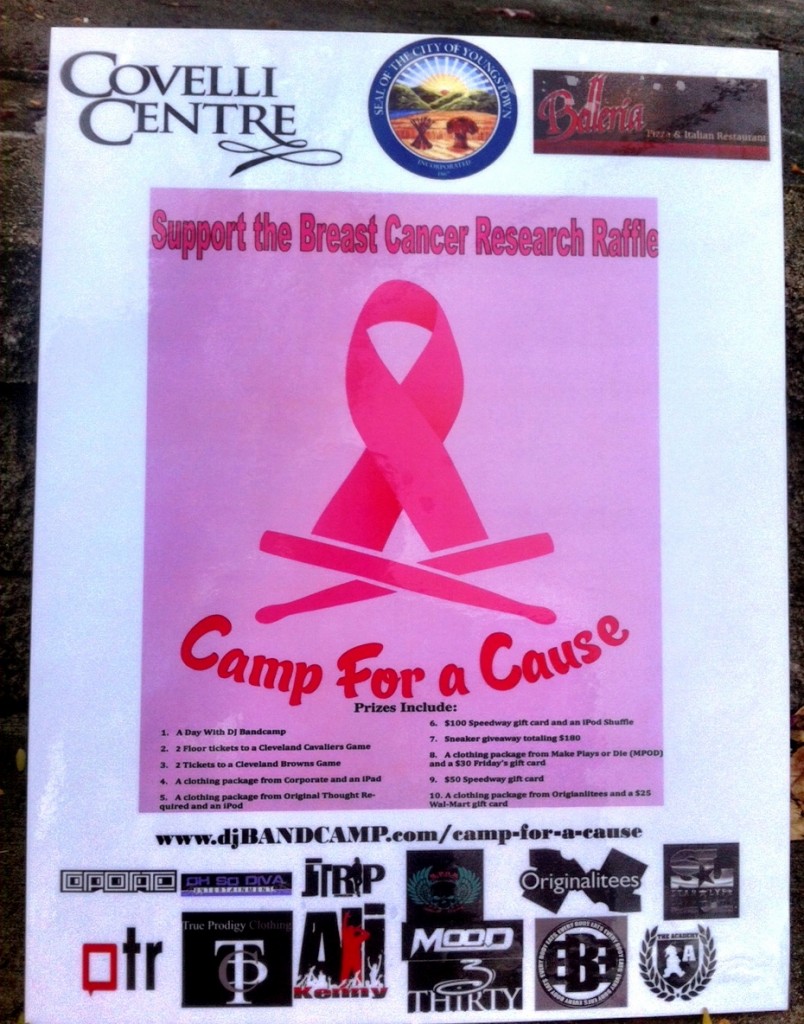 For all other questions and inquiries, feel free to email us at campforacause@djbandcamp.com