DJ Bandcamp Headlines the "Summer Concert Series" on Fountain Square in Cincinnati, OH
I'm not even sure where to begin! Let's start at the mall, Easton Mall in Columbus, OH to be exact. I want to say it was a chilly rainy day in April when I received the call from Sean Herron, owner of Self Diploma, to ask if I was interested in headlining a concert on Fountain Square for their annual "Summer Concert Series." My initial reaction was extreme shock, followed by "What! Are you serious???" He assured me he wasn't kidding and all I could do was thank him from the bottom of my heart for such a grave opportunity to express my talent.
For those who are not aware, the "Summer Concert Series" is an annual event done by the great people over at Self Diploma, where they take over the heart of downtown Cincinnati, OH for the entire summer and put on FREE concerts for the public. In the 4 years of it's existence, they've brought headliners that have included Talib Kweli, Machine Gun Kelly, DJ Jazzy Jeff, DJ Kid Capri, Chip Tha Ripper (aka King Chip), and many more! So to ask little ole "DJ Bandcamp" to headline such a prestigious stage was such an honor. I was literally flabbergasted.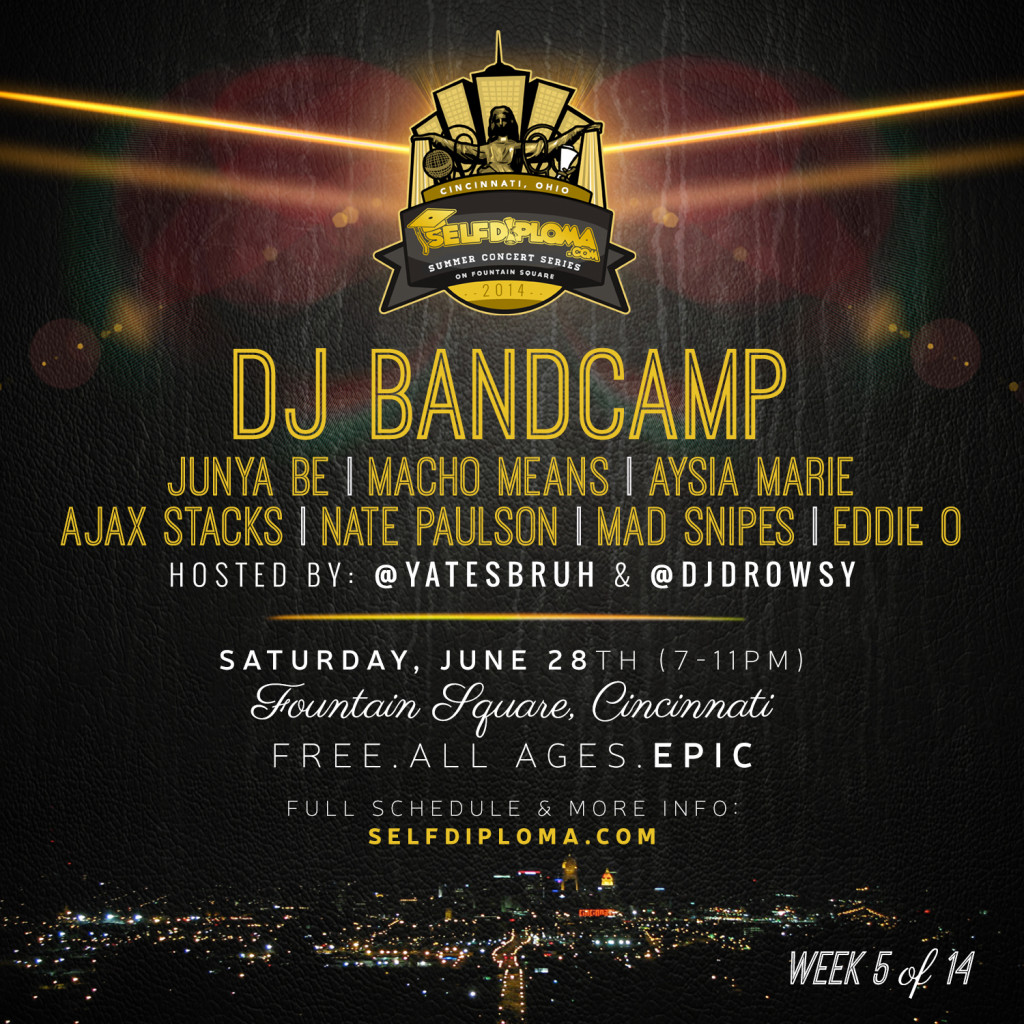 (Pictured Above: Official Promo Flyer for my Headlining Week)
In preparation for the show, I knew I had to bring something different to the table. I had been toying with an idea in my head but I really didn't know how to bring it to life. I reached out to a good friend of mine, Clinton Hodge, who marched with me in the drumline at the University Of Cincinnati for some advice. After telling him what I wanted to do, he aided me in building a game plan to get it done.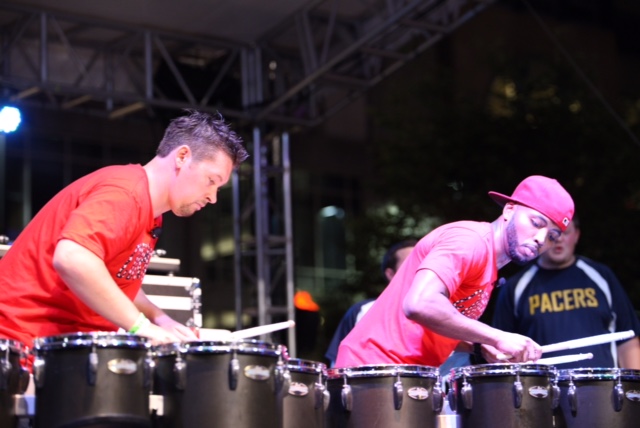 (Pictured Above: Clinton Hodge and DJ Bandcamp performing on Fountain Square)
I spent almost two months preparing for the big day. Countless hours of rehearsing, sending emails, text messages, listening to music, practicing, etc. I had to make sure I took full advantage of June 28, 2014. I knew, in my head at least, this performance was worth a million dollars! I know you all have been reading this and wondering, "What the heck did he do?" Check the video out below! Thank you again to Clinton Hodge, Nick Angelis, Dr. Frentz, The University of Cincinnati Bearcat Bands, Marlanna Vanhoose and family, The Indiana Pacers (High Octane Drumline), and of course, Self Diploma!
#WelcomeToBandcamp