"And This One Time with BANDCAMP!"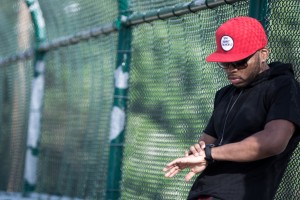 National Tour? Check. National Television? Check. National Basketball Association, otherwise known as the "NBA?" Check. International Tour? Check. Needless to say, it's been a very productive 6 years for DJ Bandcamp.
As an up and coming DJ out of Cincinnati, Ohio, by way of Youngstown, Ohio, Bandcamp managed to land a gig as the official tour DJ for National Recording Artist, Stalley, of Atlantic Records' Maybach Music Group in early 2012. In the three years he spent touring with the rising star, he was afforded the opportunity to complete two national tours: the first featuring multi-platinum, Grammy award winner, Kendrick Lamar, and the other, hip-hop superstar and also, Grammy award winner, Lupe Fiasco.
In February of 2013, DJ Bandcamp made his first appearance on BET's 106 & Park as a guest DJ, and had since become a regular until the show's end in December 2014. Shortly after his initial appearance on 106 & Park, Bandcamp landed a spot in the NBA as the official DJ for the Indiana Pacers. Now, in his 4th full season for the organization, he has become a fan favorite and a staple in the state of Indiana.
Following an event during the 2015 Essence Festival with actor and television personality, Terrence J, Bandcamp was offered the opportunity to become the official DJ for multi-platinum, Grammy award nominated singer, actor, and producer, Omarion. Soon after accepting, the highly touted DJ found himself on Chris Brown's, "One Hell Of A Nite Tour", that featured Omarion, Kid Ink, Migos, Fetty Wap, Teyana Taylor, and a host of special guests.
Bandcamp continued his travels and took his talents overseas with Omarion for a European Tour in fall of 2015. That was soon followed up with an Australian Tour with Tyga in Spring 2016, a Middle-Eastern run that summer, and a South African Tour in fall of 2016.
In addition to touring with national acts and spinning for the NBA, Bandcamp also finds room for his own personal agenda. He's constructed two, solo, college tours, and has booked his own international gig in Seoul, Korea, where he has now been twice on his brand alone. He's released 13 mixtapes to date, and has generated a growing following to his soundcloud and website, as he continues to raise the bar to new heights.
Becoming one of Ohio's most sought after DJs, to worldwide recognition, has allowed "DJ Bandcamp" to become a more recognizable name. His high-energy sets coupled with his unique mic presence have allowed him to flourish in measures he thought were unreachable. Versatility is key and DJ Bandcamp has been able to diversify his following by impacting crowds of all ages and backgrounds. Giving an unforgettable and eclectic set at every event he hosts, you'll be sure to begin your exciting recap with…
"And this one time, at BANDCAMP!"